Here is a review of some of the news events that occurred in County Wexford throughout 2014.
January
Jan 3rd: Thousands of homes throughout the country are left without power after overnight storms. Several areas throughout County Wexford are affected.
Jan 16th: Wexford General Hospital temporarily bans visitors in an effort to curb the spread of the winter vomiting bug.
Jan 18th: A lucky Wexford person wins €588,000 on the National Lottery after purchasing a ticket at Dunnes Stores in Redmond Square.
Jan 28th: 47 jobs are lost when manufacturing company Irish Driver-Harris announce the immediate closure of their facility in New Ross, County Wexford.
Jan 28th: Two men are arrested at Rosslare Europort after they are caught trying to smuggle over €60,000 worth of drugs.
Jan 28th: Wexford Hurler Eoin Quigley calls time on his inter-county career. Eoin was a member of the last Wexford side to win a Leinster title.
February
Feb 2nd: New Ross in County Wexford is flooded after heavy overnight rainfall.
Feb 5th: CCTV footage emerges of an armed raid that was carried out at a scrap metal dealership in Ballycarney, Co Wexford.
Feb 6th: Sinn Fein hold their annual Ard Fheis in the Wexford Opera House. In response, the family of detective garda Seamus Quaid, who was murdered by the IRA in 1980, request that his plaque be taken down from display at the venue.
Feb 6th: A 70-year-old Wexford man is jailed for 12 years after he is found guilty of raping and sexually abusing his two daughters. The abuse, which began when the girls were just four and six years old, spanned over a 13-year period.
Feb 8th: Raiders in Enniscorthy make off with an undisclosed amount of money after they manage to blow open an ATM on Rafter Street. Two uniformed gardai confront the suspects, who fire off a shot before escaping in an Audi A6.
Feb 11th: Reports surface that a 15-year-old schoolgirl was stabbed with a broken Benylin bottle at Clonard Village in Wexford Town. The girl, who was on her way to a friend's house at the time, had been accosted by two men who demanded that she give them a cigarette. Fortunately, the girl did not suffer any serious internal injuries.
Feb 18th: Several arrests are carried out in Dublin and Wexford in connection with the sexual assault of a young girl. Five men and two women are arrested.
Feb 22nd: The An Garda Síochána announce that they are investigating a series of break-ins in North Wexford after a number of homes are burgled in the area.
Feb 25th: Wexford woman Georgina Steele sets a new Irish record at the National Irish Pool Lifesaving Championships in Limerick.
Feb 26th: Talented Wexford teenager Sarah Ryan gets national media attention for her amazing free-hand portraits of celebrity figures.
March
Mar 11th: Co. Wexford based company Scurri secures €1.2m in seed funding for a UK expansion.
Mar 17th: Wexford man Michael Hunt is found beaten to death in Croydon, London. A suspect is arrested in connection with the murder.
Mar 18th: A minor earthquake occurs in County Wexford. Although readings from the Irish National Seismic Network are inconclusive, a station in Wales picks up the faint tremor, which caused a frenzy on social media websites such as Facebook and Twitter.
Mar 18th: A man dies in a fatal accident at a farm in the Newbawn area of County Wexford.
Mar 24th: A High Court judge orders the arrest of former Wexford hurler Paul Codd for his 'ongoing refusal' to cooperate with his bankruptcy.
April
April 2nd: A 34-year-old man is arrested after Gardai find cannabis with a street value of  €95,000 at a premises in Gorey.
April 3rd: A cannabis growhouse is discovered in Lee Heights in Wexford Town. €45,000 worth of cannabis plants are seized during the search.
April 5th: A Wexford man is awarded €70,000 for the injuries that he sustained at Dunnes Stores in Redmond Square, Wexford.
April 6th: A 30-year-old man dies in a single-car collision on the Newtown Road in Wexford Town.
April 7th: Two people escape injury when a gunshot is fired at a house in George's Street in Wexford Town.
April 19th: A 63-year-old woman dies following a fatal road accident in New Ross.
April 22nd: The 92nd ASTI conference is held in Whites Hotel in Wexford Town. Labour TD and Minister for Education, Ruairi Quinn, is heckled and booed by those attending the conference.
April 24th: Two men are arrested after they attempt to carry out a bank robbery at the Permanent TSB bank in Gorey.
April 28th: Wexford businessman Martin Quigley (48) receives a two-year suspended sentence for sexually assaulting a 19-year-old woman.
May
May 6th: Insurance company Ecclesiastical announces its partnership with the Wexford Opera House and the Wexford Opera Festival.
May 7th: The controversial sale of Wexford Creamery to Glanbia is given the green light by the Competition Authority.
May 15th: A 60-year-old man is arrested after a man is stabbed at a house on Grange Road in New Ross. The man's condition is described as being 'serious, but stable.'
May 12th: Two Wexford businessmen are forced to pay €18 million to the Bank of Scotland because of unpaid loans.
May 13th: Labour Cllr. Joe Ryan's retort on Twitter receives media attention: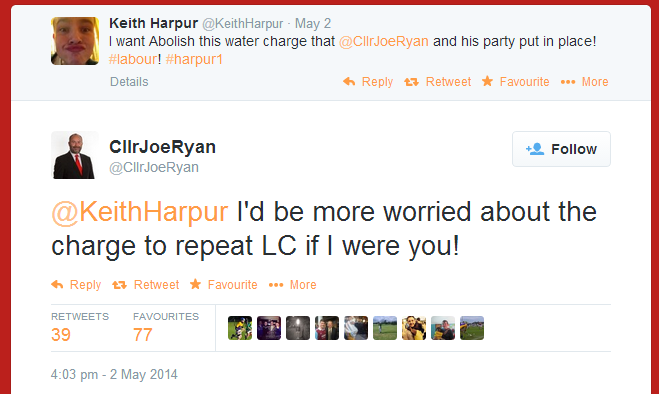 May 16th: 10-year-old Niall Kehoe becomes one of the youngest people in the world to publish a smartphone application. The Enniscorthy native's app, which is called "Kehoe's Crazy War of the Worlds", is published on the Apple App Store.
May 17th: A 35-year-old man is arrested following the robbery of a supermarket on Coach Road in Gorey.
May 19th: A 40-year-old Wexford man is sentenced to 12 years in prison for the rape of his ex-partner's daughter.
May 22nd: A Wexford postman is arrested following a sting operation. The man is arrested for the alleged theft of cash from letters.
May 23rd: Glanbia increases its cash payment to Wexford Creamery members from €3.7m to €10m.
May 23rd: Local Elections take place across County Wexford. Independent candidate Ger Carthy tops the poll in Wexford, Fianna Fáil becomes the largest party in the Wexford County Council and Wexford hurling legend Martin Storey fails to win a seat for The Labour Party in Enniscorthy.
June
June 3rd: Local businessman Nigel Hamilton launches an appeal against the decision to allow TK Maxx to open a store at the Stonebridge development in Wexford.
June 10th: The An Garda Síochána appeal for information after a charity shop on Henrietta Street in Wexford Town is burgled.
June 11th: A report by the Health Information and Quality Authority into Wexford General Hospital finds issues that pose "a high risk to the health or welfare of patients."
June 11th: A man in his late twenties is hospitalised after he is found bloodied and unconscious at St Michael's Place in Gorey.
June 20th: A Wexford woman is found not guilty by reason of insanity for the murder of her partner, Walter Plunkett (84), which occurred in 2012. The court heard that the woman in question had a long history of schizoaffective disorder, which is a mental illness that causes 'abnormal thought processes.' The court also heard that she had been not been taking her medication in the lead up to the attack, as it had been making her feel unwell.
June 22nd: Irish musician Damien Dempsey saves a man from drowning in Enniscorthy. Dempsey, who had arrived to perform at the annual Strawberry Festival, sprung into action when he noticed that a man was struggling to stay afloat in the River Slaney.
June 24th: Wexford native Declan White wins the 2014 Telstra Western Australian Business of the Year award. The 30-year-old Irishman, who had originally traveled to Australia on a holiday visa, had established the highly-successful construction company Monford Group back in 2010.
June 27th: Two men are arrested when "Ralph the Rosslare customs dog" discovers €534,280 worth of heroin, ecstasy and cannabis resin at Rosslare Europort.
June 27th: The Wexford Maritime Festival begins on Wexford's quay-front.
July
July 3rd: A man dies a day after he is found in a critical condition on Duncannon Beach in County Wexford.
July 8th: Swimming bans are applied to four beaches in County Wexford after water samples show high levels of E. Coli. Prohibitive warning signs are erected at Culletons gap in Curracloe, Morriscastle, Cullenstown and Oldbawn.
July 10th: A 25-year-old New Ross woman is awarded €1.5 million in damages by the High Court. The woman had received brain damage after an uninsured drunk driver struck her and several other pedestrians on John Street in New Ross.
July 12th: Wexford pull off an upset when they defeat reigning champions Clare in the All-Ireland Senior Hurling Championship.
July 15th: A former Wexford garda is sent to prison for a year after he pleads guilty to stealing more than €50,000.
July 16th: A Wexford man is found guilty of the manslaughter of his brother at Belvedere Grove in Wexford on the 8th of July, 2011.
July 19th: Fans continue to dream after Wexford defeat Waterford 3-15 to 2-15 in the All-Ireland Senior Hurling Championship.
July 19th: Wexford progress to the semi-finals of the Liberty Insurance Senior Camogie Championship after a 5-19 to 0-13 win over Dublin.
July 22nd: Wexford TD Mick Wallace and independent socialist TD Clare Daly are arrested while attempting to search two US military planes at Shannon Airport.
July 22nd: Reports emerge that a 60-year-old woman with broken ribs had to endure a 14-hour-wait at Wexford General Hospital before being able to see a doctor.
July 27th: Wexford are defeated by Limerick in the quarter-final of the All-Ireland Senior Hurling Championship.
July 30th: Murder accused James "Chuck" Connors is released on bail after the High Court reduces the amount of surety that is required for his release. Connors currently stands accused of the murder of Jason Ryan, which occurred in January of 2012.
August
Aug 2nd: A reenactment of the Battle of Vinegar Hill takes place in Enniscorthy.
Aug 4th: A man is arrested at Rosslare Europort after he is found in possession of €40,000.
Aug 11th: Aidan O'Brien steps down as the manager of the Wexford Football team. O'Brien, who had managed Wexford for two years, cited personal reasons for his resignation.
Aug 11th: American TV network CBS announces that it will be airing a new television series about Wexford-born 'genius' Walter O'Brien, who reportedly hacked into NASA computers at the age of 13. The show is called Scorpian and O'Brien is portrayed by actor Elyes Gabel.
Aug 16th: €25,000 worth of cannabis plants and drug paraphernalia are discovered at an apartment in Abbey Court in Wexford Town.
Aug 19th: Reports emerge that four houses in Rathangan and Ballymitty were burgled as the families attended a funeral.
Aug 20th: Fr. Jim Fegan, Mayor George Lawlor and Fr Aodhan Marken take part in the Ice Bucket Challenge:
Aug 21st: Figures released by the Department of Transport reveal that Wexford had the highest rate of motorists being given penalty points for drink driving.
Aug 23rd: Wexford progress to the All Ireland U21 Hurling Final after defeating Galway 1-21 to 1-19.
September
Sep 2nd: One man is arrested following the discovery of a brothel on Parnell Street in Wexford Town.
Sep 9th: Nigel Hamilton's objection to the chosen location of TK Maxx in Wexford Town is rejected by An Bord Pleanála.
Sep 11th: 20 new jobs are created when ALDI opens its third store in Wexford Town.
Sep 13th: Reports of a suspected abduction on High Street in Wexford Town leads to a nationwide Child Rescue Alert. According to an eye witness, 15-year-old Sait Canbullu was set upon by two men wearing balaclavas before being driven away in a black saloon car.
Sep 14th: The Child Rescue Alert is called off after the An Garda Síochána announce that they no longer believe that Sait Canbullu was abducted.
Sep 14th: 15-year-old Sait Canbullu is found safe and well in Sligo.
Sep 18th: The Wexford County Council announce plans to re-open John Redmond's mausoleum.
Sep 24th: A serious assault occurs on Wexford's South Main Street when a 38-year-old man is attacked in broad daylight. A 24-year-old man is arrested at the scene.
Sep 28th: Wexford win the All-Ireland Ladies JFC final after defeating New York 1-12 to 1-10.
October
Oct 5th: Local businessman Erdie Murphy passes away after an illness. Erdie had operated the Crossroads Foodstore on Hill Street for many years.
Oct 9th: A 'historic yet viable' grenade is rendered safe in Enniscorthy. The device had been discovered during a garden excavation.
Oct 10th: Fiona Nalty (25) and Arry Green (22) are sentenced to life for the murder of Wexford man Michael Hunt.  Judge Stephen Kramer QC rules that the couple must serve a minimum of 19 years in prison before being considered for release.
Oct 11th: A man in his twenties is seriously injured after a road crash in Enniscorthy.
Oct 12th: A man is hopitalised after a fall from a ferry in Rosslare.
Oct 14th: Reports emerge that the man who had fallen from a ferry in Rosslare had escaped from Wexford General Hospital.
Oct 15th: Hotel operator Dalata announces their acquisition of Whites Hotel.
Oct 17th: An attempted armed robbery occurs at the Post Office in Barrack Street. Nothing of value was taken in the raid.
Oct 20th: A missing Wexford teenager is found safe and well.
Oct 21st: A man is killed in a tragic accident on the Rosslare rail line in Wexford Town.
Oct 22nd: American retailer TK Maxx agrees rental terms for its usage of the Stonebridge retail unit on Wexford's quay front.
Oct 22nd: The 62nd Wexford Opera festival kicks off in style with a beautiful fireworks display.
Oct 22nd: The Spiegeltent Festival begins in Wexford.
Oct 22nd: Minister for Arts, Heritage and the Gaeltacht, Heather Humphreys announces that the Wexford Opera House is to be renamed as the National Opera House.
Oct 30th: Reports emerge that the image of a deceased Wexford woman had been used in a Hollywood horror film without her family's consent.
November
Nov 1st: Thousands of people take to the streets of County Wexford in order to protest against the upcoming water charges.
Nov 5th: Enniscorthy company ClearStream Technologies announces the completion of a 50,000 sq. ft. extension, which could lead to the creation of 200 jobs.
Nov 13th: Enniscorthy is hit with heavy floods.
Nov 14th: A team of rescuers manage to save 17 horses from the flood waters in Enniscorthy.
Nov 22nd: A local Wexford man dies in a tragic accident in Wexford Harbour.
Nov 23rd: A 32-year-old man is charged with robbery of a newsagents in Enniscorthy.
Nov 24th: 50 new jobs are announced at Danone after its Wexford facility is expanded.
Nov 27th: A high-voltage cable catches on fire before falling to the ground on Anne Street in Wexford Town. Nobody is harmed during the incident and the location is cordoned off by emergency services.
Nov 29th: The Wexford Winterland Festival begins after with the Santa parade in Wexford Town.
December
Dec 1st: The body of missing 21-year-old Paul Davey is discovered in New Ross. Paul had been missing from the area for a number of weeks.
Dec 11th: A tragic incident occurs when a baby boy is discovered in an unresponsive state at a creche in Castlebridge. The 19-month-old boy was taken to Wexford General Hospital, where he was later pronounced dead.
Dec 12th: Selskar Under The Stars begins in Selskar Square.
Dec 15th: Well-known local businessman George Bridges passes away after a fatal road collision. George had operated a hugely-successful toy shop on Selskar Street for a number of years.
Dec 17th: A syndicate of 17 nurses from the Wexford General Hospital collects a €2.8 million Lotto jackpot.
Dec 20th: The body of a woman is found in the River Slaney at Bunclody.
Dec 23rd: A local man in his early 50s after a quad bike accident in Curracloe.
Dec 29th: A lucky Wexford man discovers that he had been carrying around a €350,000 Lotto ticket for a month. The man in question only discovered his winnings after the ticket scanning machine informed him that he needed to contact the National Lottery.
Dec 29th: A new gas pipeline to County Wexford is approved by the energy regulator.