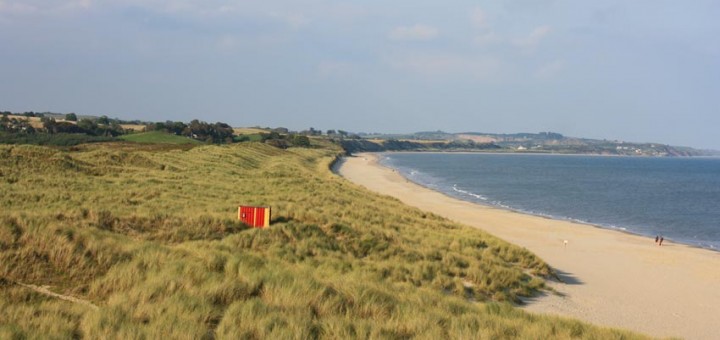 Curracloe Beach in County Wexford is one of the most popular beaches in Ireland. Located 2 kilometers from Curracloe Village, this soft-sand beach is frequented by sunbathers and nature lovers alike.
During the summer months, you'll find that the area is bustling with life as holidaymakers leave their home counties to take up residence in the holiday homes, campsites, hotels, and B&Bs that surround the area.
Later on, during the autumn and winter months, Curracloe Beach and its nearby forest become a hot spot for dog walkers, joggers, and anyone else in pursuit of a peaceful stroll.
The area itself is suitable for bathing, as it has a Blue Flag certification. This certification, which is awarded by the Foundation for Environmental Education (FEE), serves as a notice to beachgoers that the area and its surrounding waters have lived up to a number of strict regulatory standards.
Its 7-mile-long beach is famous for its soft and fine sand, which puts it in contrast with many of the stony beaches that you will find around Ireland.
The beach is guarded by a number of large and sprawling dunes, all of which are held together and stabilised by a seemingly endless blanket of green marram grass. During the warmer months, these sand dunes prove to be extremely popular amongst visitors, many of whom will not pass up the opportunity to roll down them.
Curracloe Forest
Running parallel to the beach is the Raven Nature Reserve (also known as Curracloe Forest or Raven Wood), which is a 3.5KM-long forest that is filled with pine trees and evergreens. The forest has a walking trail, which makes it accessible to almost everyone.
The entrance is guarded by a metal barrier, which is there to prevent unauthorised vehicles from entering the area (Note: A visitor's car park does exist at the entrance).
Just inside the entrance, you will find a clearing in the woods that contains benches and a number of small ponds (in the past, these ponds have been known to contain frog spawn and tadpoles).
As you continue to walk deeper into the forest, you will come across a number of pathways and trails that lead off to your left. More often than not, these pathways will bring you to the beach. Care must be taken, however, as many of these trails are steep and inaccessible to those with disabilities. Unless you're comfortable with the prospect of climbing hills and jumping over obstacles, you should probably play it safe by sticking to some of the more commonly used entrances.
This forest is extremely popular amongst joggers, who will make their way up the beach before returning via the forest's walking trail. This particular run can be up to 7 kilometers in length, depending on the starting point.
Typically-speaking, it will take about 40-60 minutes to complete, depending on your level of fitness and your knowledge of what route to take. For safety purposes, you should inform others of your plans to carry out this run.
The Raven acts as a reserve for many different types of wildlife. For instance, 35% of the world's population of Greenland White-Fronted Geese will spend their winter in the area. The forest is also home to other forms of wildlife, such as red squirrels.
Shopping, pubs & nightclubs
Curracloe Beach is a 2KM drive from the village, which contains bars, hotels and a number of shops. If you're looking for more than just the basic necessities, you can make your way to Wexford Town, which is 11 kilometers away (15 to 20 minutes' drive).
The county's administrative town is home to roughly 20,000 people, and it contains fashion outlets, nightclubs, supermarkets, pubs, book stores, fast food chains, and restaurants.
If you have a personal interest in history, you might be pleased to know that the town is over 1,200 years old and that it contains a number of historical monuments and buildings. On a Saturday night, you'll find that groups of holidaymakers will travel from Curracloe to Wexford Town via minibus to take advantage of the nightlife.
FAQ
Below is a list of frequently asked questions about Curracloe Beach.
"What is the parking like?"
There are three car parks. The main one is at White Gap, whereas two smaller car parks exist at Ballineskar and Culletons Gap. Overall, there are approximately 500 parking spaces.
"What about disabled parking spaces?"
There are four disabled parking spaces at White Gap and two disabled parking spaces at Ballineskar.
"Are there any toilets?"
Yes. There are toilet facilities at both White Gap and Ballineskar. Although it is important to note that White Gap is the only entrance that contains a toilet facility for disabled people.
"Do they have lifeguards on Curracloe Beach?"
Yes, but only during the summer months (June to September). In June, lifeguards are on patrol at the weekend, between 11 a.m. and 7 p.m. In July, because of the increase in visitors, lifeguards will work throughout the week, between the hours of 11 a.m. and 7 p.m. In September, as things begin to calm down, they will return to a weekend shift.
Make sure that you seek out the information notice board for an up-to-date timetable.
"Where is the forest?"
The entrance to Curracloe Forest can be found at Culletons Gap.
Which is the most accessible entrance?
If you need an accessible entrance, you should use the pathway at Ballinesker, as it is mostly flat. Although the boardwalk at White Gap does look accessible from the car park, the opposite side of it tends to get covered in sand.
Are you allowed to camp in Curracloe Forest?
It is illegal to camp in Curracloe Forest or Raven Wood. However, that doesn't stop people from doing so. Note that anyone who decides to camp in the forest will run the risk of being evicted in the middle of the night. In the past, groups of campers have been woken up and ordered to leave the area. Creating campfires and/or littering will significantly increase your chances of being reported. It is important to note that the area is monitored by a group of volunteers called "The Friends of the Raven", which works closely with the An Garda Síochána.
Map
The map below shows the three main entrances to Curracloe Beach. The most northerly entrance is Ballinesker. The middle one is White Gap. The most southerly marker pinpoints Culletons Gap, which is right beside the entrance to Raven Wood.
See more: Places to visit in Wexford.
Related: Map of beaches in Wexford.