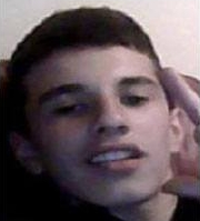 Update: The Child Rescue Alert has been called off.
The An Garda Síochána are seeking the public's assistance after a suspected abduction occurred at the junction between Rowe Street and High Street in Wexford Town.
According to a statement from the An Garda Síochána, 15-year-old Sait Canbullu (shown in the picture) was set upon by two men wearing balaclavas at approximately 1.10PM. The teenager was then taken away from the scene in a black saloon car, which travelled in the direction of Wexford's Custom Quay.
Sait Canbullu is described as being 5 foot 4 in height. He has black hair and brown eyes. When last seen, he was wearing a dark grey tracksuit, as well as greyish-blue Nike runners. He is of Turkish descent.
Anyone with information is being asked to contact the Gardai on 999 or 112. The public are being warned not to approach those who are involved.
Updates:
Inspector John Ferris has expressed serious concern for the missing teenager. His family are extremely worried about his whereabouts.
Gardai are currently tracking the suspected abductors, who are believed to be in Sandymount, Dublin. A mobile phone signal from Sait's phone placed him in South Dublin yesterday evening.
It is currently believed that he is in the care of relatives, who are trying to hide him from the authorities.
Sait was in HSE care at the time of his abduction. He was living at a facility in Wexford Town and had been shopping at the time.
His mother, Hilda Murrin, has reiterated her concerns for her son. "I'm worried sick about him. Help me find my son. I'm begging you. Please everyone help me."