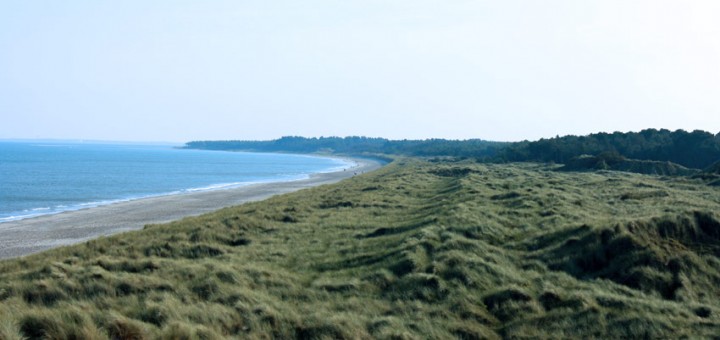 A list of guides about places that you can visit in Wexford, Ireland. Below, you will find an ever-growing list of articles about some of Wexford's tourist attractions and historical sites.
Carrigbyrne Hill is a beautiful and historic site that is situated between the towns of Wexford and New Ross.
---
Curracloe Beach is one of the most popular fine-sand beaches in Ireland. It also has a Blue Flag certification, which means that it is suitable for bathing. Beside the beach, you will find Ravenwood Forest, which contains a walking trail.
---
The Irish National Heritage Park is an open history museum that contains reconstructions of prehistoric structures and medieval buildings. There, you'll find everything from Christian monasteries to megalithic tombs and Viking encampments.
---
Redmond Park is situated on Spawell Road in Wexford Town. The park, which was opened in memory of nationalist politician Major Willie Redmond, contains a playground for children and picnic benches.
---
The Wexford Wildlife Reserve in Ardcavan is open throughout the year. Here, you will get to see and learn about some of the bird and mammal species that are native to the area around Wexford.
---
Ardcavan Beach is a small beach that provides visitors with an expansive view of Wexford Harbour and Ravenwood Forest.
---
In Rathaspeck, which is just outside of Wexford Town, you will find "The Doll's House", which is a colourful bright-blue chalet that was built in the early 1900s. The house's distinctive architecture and brightly-coloured exterior has proven to be a huge hit with passers-bys.
---
The Republican Garden of Remembrance in Hill Street marks the spot where three anti-treaty IRA members were executed in 1923. This commemorative garden is open throughout the spring and summer months.
---
Edenvale is a quiet forested area that is situated 1KM outside of Castlebridge. A must-visit for those who enjoy a peaceful stroll.
---
The Carrigfoyle quarry in Barntown offers a wonderful panoramic view of Wexford's countryside. It also contains a scenic lake that is surrounded by tall quarry cliffs and a beautiful forest.
---
Wexford Gaol was used as a prison throughout the 1800s. In the 1900s, it was used as a military barracks by the Free State government. The women's prison still exists and it is visible from Hill Street in Wexford Town.
---
Selskar Abbey is a medieval Christian site that was built during the 1100s. Guided tours of the abbey are available throughout the milder months.
---
In Ferrycarrig, you will find a Norman tower house that was built during the 15th century. This fortified stone building was constructed in order to protect boat traffic on the River Slaney.
---
The Paupers' Graveyard in Coolcots was a cemetery for the poor and destitute. Nowadays, the garden commemorates those who were buried in the unmarked plots.
---
In the centre of Wexford Town, you will find The Bullring, which has been the home of a bustling market place for hundreds of years.
---
Take a stroll along Wexford's historic quay-front and marina, which was redeveloped during the 1990s.
---
Westgate Tower is a medieval gateway and tower house that was constructed by the Normans. This gateway provided access to the grounds of Selskar Abbey.
---
In Wexford Town, you'll find the remnants of a defensive stone wall that was built during the aftermath of the Norman invasion of Ireland. Throughout the town, you will find long stretches of the wall, as well as a number of mural towers.
---
Rathaspeck Church is a 19th century Protestant Church that lies on the outskirts of Wexford. Its cemetery holds the body of Cornelius Grogan, a United Irishman that was executed in the aftermath of the 1798 rebellion.
---
The Rocks is a popular scenic spot that is situated in the south of Wexford town, beside The Faythe and Maudlintown.
---
Carrig Graveyard in Wexford acts as the final resting spot for many of those who died during the Irish Rebellion of 1798.