The Irish National Heritage Park is an open history museum that is situated in the Ferrycarrig, County Wexford. The park is hugely popular amongst tourists, schools and history lovers, as it contains accurate reconstructions of historic structures, camp sites and buildings – all of which range from prehistoric times to the arrival of the Normans in the 1100s. This is a guide to the park and some of its attractions.
Prehistoric Campsite.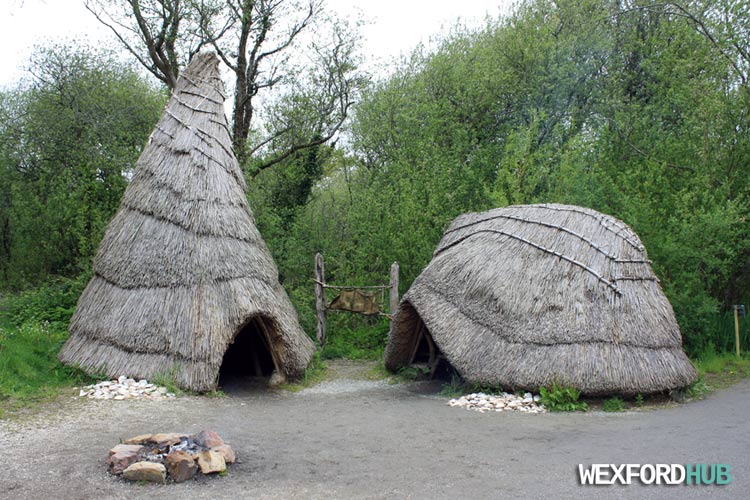 One of the first sights that you will come across is the recreation of a prehistoric campsite. The campsite, which consists of two thatched huts and a burning fireplace, is based on remains that were discovered during archaeological digs on Mount Sandel in County Derry. Huts in prehistoric times would have been made out of tree branches and reeds – with mud being used to reinforce the walls.
Portal Tomb.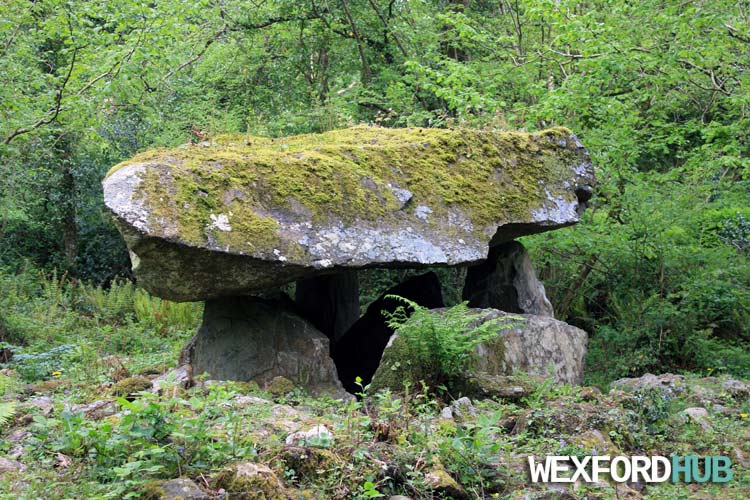 The Irish National Heritage Park also contains a reconstruction of a portal tomb (also referred to as a "dolmen" or  a "Megalithic tomb"). These "tombs" took the shape of a "giant's table", with upright boulders being used to support the weight of a large horizontal slab. To this day, it remains unclear as to why these dolmens were created. Although it is presumed that their purpose was to serve as some soft of burial chamber, very little evidence exists to support this. As it stands, archaeologists are still uncertain about their origins (they have appeared in multiple countries across the world, from Ireland to South Korea). While many archaeologists believe that these stone structures were used to mark burial sites, others have floated the theory that they were used as territory markers or places of worship.
Trivia: Most of these portal tombs are so large and heavy that many people used to believe that they marked the graves of dead giants!
Stone Circles.
The Stone Circle is another mysterious structure that has survived from prehistoric times.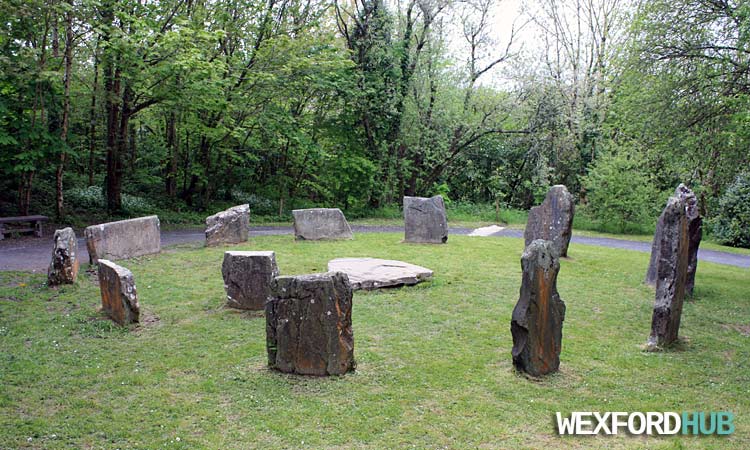 These stone circles consisted of uneven stones; stood upright and placed in such a way that they created a small circular enclosure. Surviving stone circles have been found in many parts of the world; with notable examples being found in places such as Ireland, Israel, Britain and Scandinavia.
Most experts believe that these stone structures were built to honour the dead and to provide a place for ceremonial worship. There is also the possibility that these stones were aligned in such a way that they could be used pinpoint the time of the year.
Unfortunately, figuring out the construction date of stone circles has proven to be an extremely difficult feat for scientists, as Radiocarbon dating techniques often return a wide range of results.
Ogham Stone.
While journeying through the grounds of the Irish National Heritage Park, you will also come across an Ogham Stone: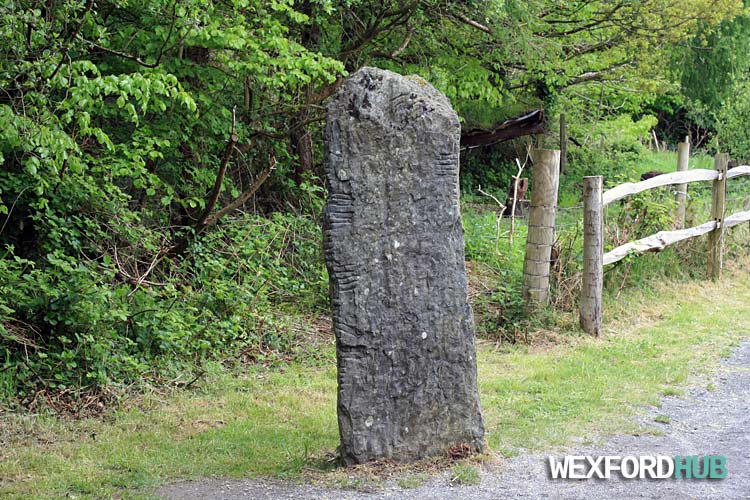 Ogham was an early medieval alphabet that is believed to have been invented in 300AD. It was based on the Latin alphabet and it was used to inscribe the primitive Irish language (sometimes referred to as Archaic Irish).
More often than not, these Ogham stones were used to inscribe personal names and the name of tribes. For example, on the Isle of Man, one Ogham Stone was found with an inscription that read: "Of Bivaidonas, son of the tribe Cunava."
It is believed that many of these stones were used as tombstones or as markers to denote land ownership.
Medieval Ringfort.
At Site 7, you will come across a wonderful reconstruction of a Medieval Ringfort: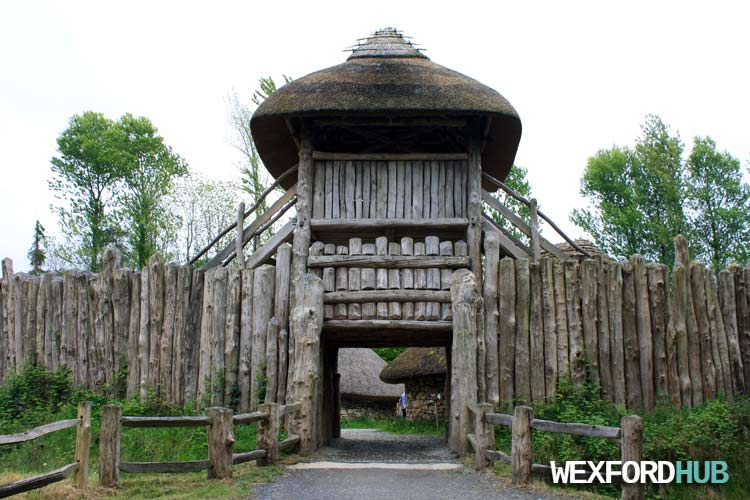 The ringfort was a defensive settlement that became popular in the 5th Century. Most experts agree that these forts acted as homes and livestock enclosures for the wealthier members of society. Inhabitants would have included people such as lords, craftsmen, wealthy farmers and judges.
Ringforts were often surrounded by a ditch, with the settlement and its defensive walls being built on top of the embankment. It is believed that the walls of the ringfort were built in order to provide some sort of temporary protection against raiders; many of whom would make a smash-and-grab attempt at stealing livestock. Because ringforts were often in visual sight of one another, one can only presume that its purpose was to "hold out" against attackers until the members of a neighbouring ringfort were able to arrive.
Christian Monastery.
Site 8 at the Irish National Heritage Park is a reconstruction of a Christian Monastery: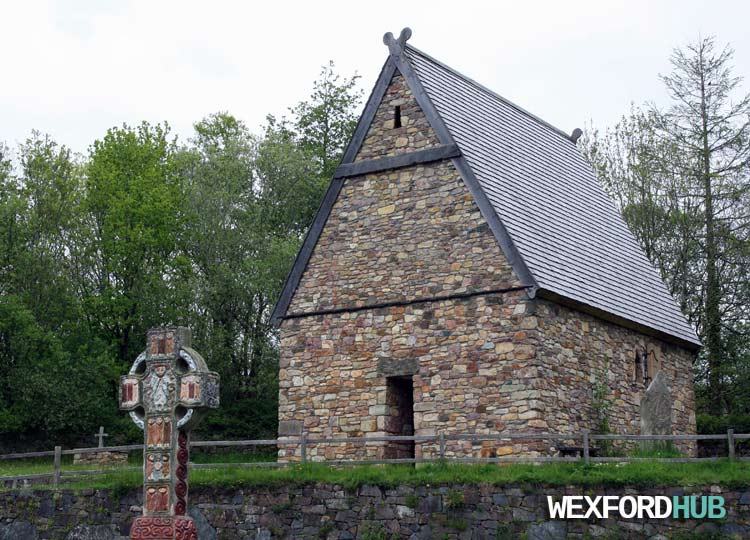 Christianity began to spread to Ireland before 400AD. Although Saint Patrick is often credited with bringing Christianity to Ireland, this is untrue, as the religion had already reached the island long before Patrick had arrived (it is believed that Christianity spread to Ireland via Roman-controlled Britain, as there were trade lines between the two islands).
As Christianity spread throughout Ireland, monasteries began to appear. These monasteries provided a sanctuary to the monks and nuns that dedicated their lives to worshiping God. The grounds of the monastery was split into two main areas. The 'sacred' part of the monastery consisted of a church and a cemetery; with the other part being used as a living quarters for the clergy members and the laypeople that maintained the grounds. In some cases, the living quarters became so expansive that the monastery operated like a small town or village.
At the Irish National Heritage Park, you will find a reconstruction of a stone monastery and "High Cross", which are both modeled on elements from monasteries that were discovered on the eastern coast of Ireland. A few feet away, you will also find a recreation of a stone beehive hut (known as a Clochán), which were popular in the west of Ireland.
Kiln.
The Kiln was a type of slow-burning "oven" that was used to dry corn: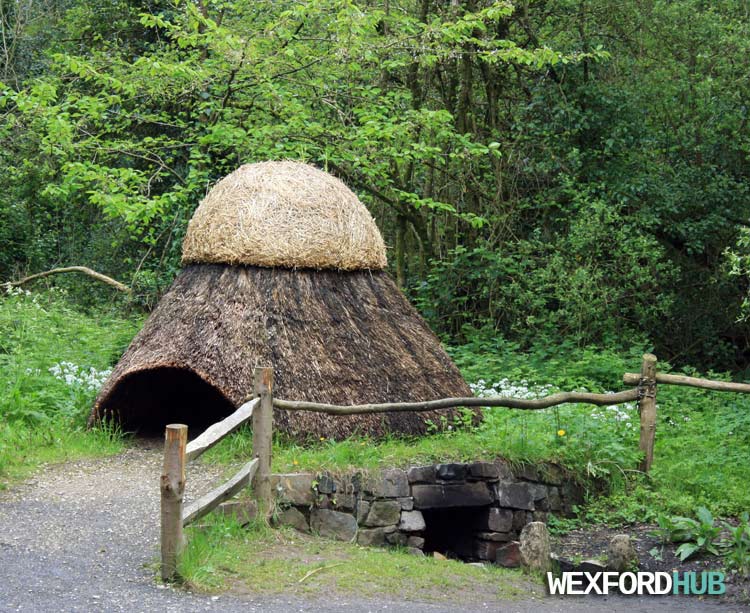 The corn drying kiln was a hut-like structure that was built on top of a fire pit. Because the Irish climate can be extremely damp, it is safe to assume that early farmers would have relied on these kilns to remove the moisture from their corn. After placing their corn inside the thatched structure on top, they were able to dry it out by lighting a slow-burning fire in the pit below.
Horizontal Water Mill.
Site 10 in the Irish National Heritage Park is a reconstruction of a Horizontal Water Mill: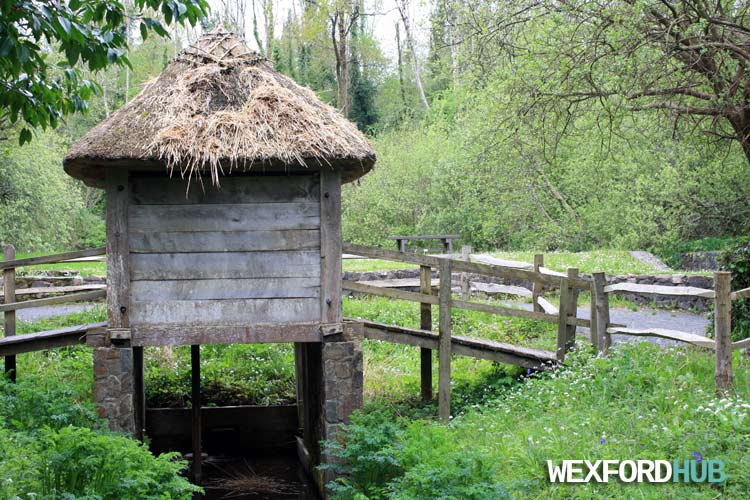 These water mills started to appear in Ireland in the 7th Century. Before their introduction, most of the tedious grinding work would have been carried out by female slaves. The Horizontal Water Mill worked by channeling the force of water to rotate a horizontal wheel that was attached to a heavy grinding stone.
Fulacht Fia.
Next up is the Fulacht Fia, which was an outdoor "kitchen" that was popular during the Bronze Age: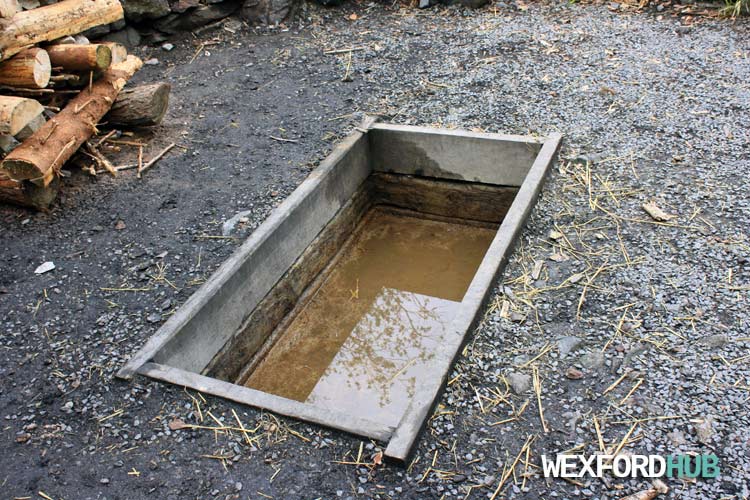 As you can see above, the Fulacht Fia contained a water-filled pit that was often lined with wood. To bring the water to a boil, stones were heated on top of a fire before being lowered into the pit. Using this method, Bronze Age peoples would have been able to bring the water to a boil in under five minutes.
Although the most popular theory is that these pits were used to boil meat, other researchers have voiced their belief that they were used for a wide range of other purposes; such as bathing and dyeing clothes. Others have even suggested that these pits were used to brew beer!
Crannog.
At the other side of the visitor centre, you will find a recreation of a Crannog, which was a settlement that was built on top of an artificial island: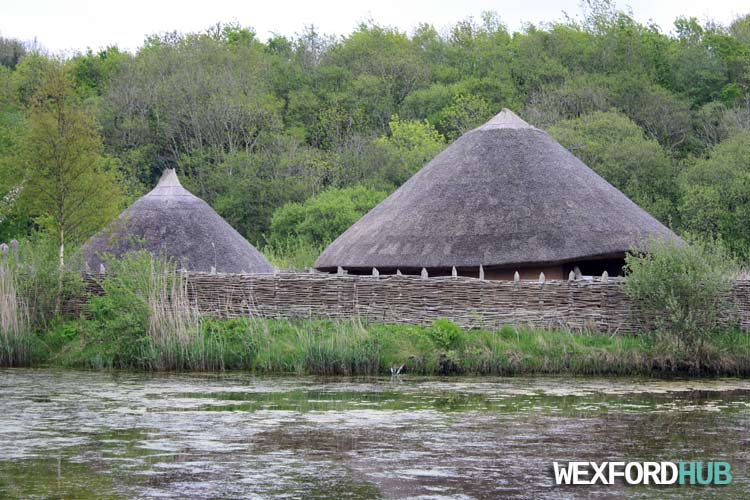 These man-made islands were created by placing a number of different materials at a shallow point in the lake. Using soil, stones, sods, peat and anything else that was available, early settlers were able to create an artificial island that was kept in place by large timber posts. These wooden posts were constructed in such a way that they created a circular enclosure in which the mound could be built upon.
It is estimated that there are up to 1,400 examples of crannogs in Ireland, with most of them being built from 800AD onward. As you can imagine, these crannogs were popular because of the sense of security that they offered. By separating themselves from the outside world, settlers were able to better protect themselves and their livestock from wild animals and would-be enemies.
Viking Boatyard.
Site 13 in the Irish National Heritage Park contains a recreation of a Viking Boatyard: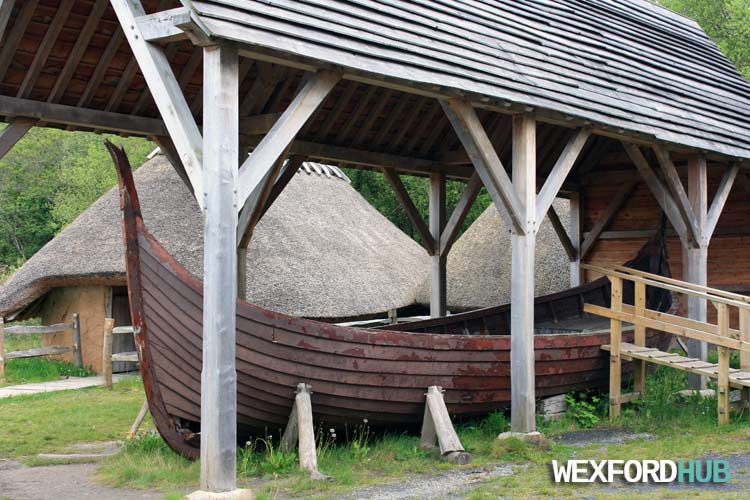 The Vikings were Scandinavian seafarers that were notorious for raiding and looting coastal settlements. The Vikings began to carry out raids in Ireland in the later parts of the 8th Century, with the first recorded raid being at Lambay Island off the coast of County Dublin. Between 800AD and 1000AD, the Vikings continued to terrorise Ireland; looting monasteries and small villages and performing hit-and-run attacks. These pagan Norsemen had such a negative impact on coastal areas that many native Irish people decided to move further inland!
Fun fact: The nearby town of Wexford was actually founded by the Vikings back in 800AD. The name "Wexford" comes from the word "Waesfjord", which means "inlet of the mud flats" in Old Norse.
Norman Castle.
Site 14 contains a reconstruction of a white lime-painted Norman castle: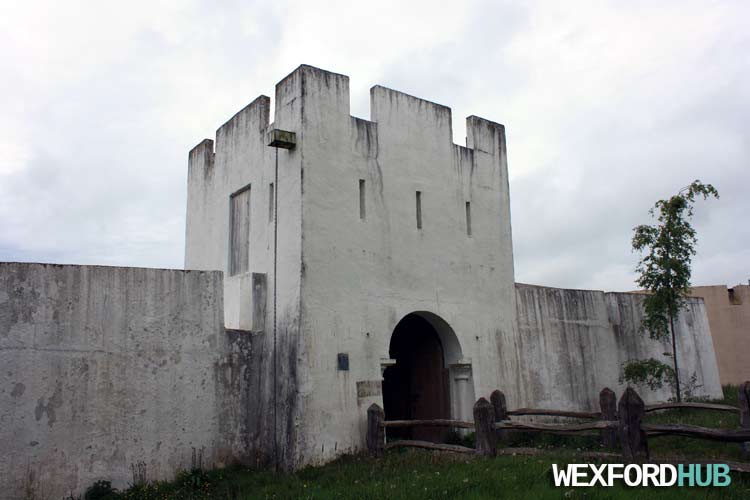 The Normans painted many of their castles white in order to make them look more impressive. Interestingly, this particular reconstruction is built just a few metres away from the site of the original ringwork castle at Ferrycarrig.
The Normans began to arrive in Ireland in the later parts of the 12th Century. In 1167, the first Norman force landed in Bannow Bay in County Wexford, which is just 30KM away from the Irish National Heritage Park. Soon afterwards, the Normans captured Wexford Town, which was inhabited by a mixed population of Norse and Irish people (Norse-Irish). After capturing the town, they set out to fortify the region by constructing a wooden ringwork castle that overlooked the River Slaney.
Round Tower.
The last site at the centre is a reconstruction of an Irish round tower: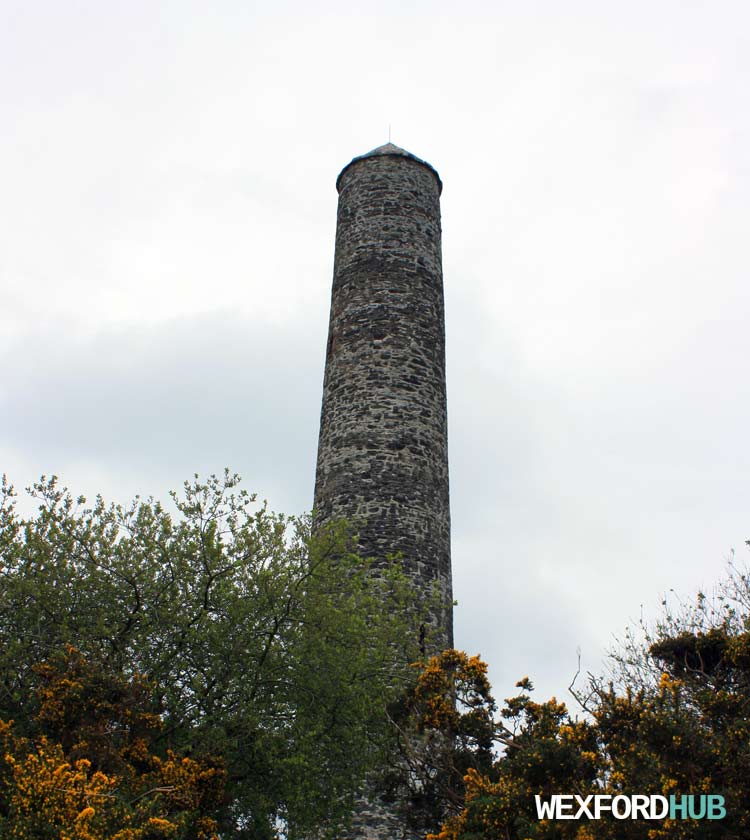 This structure was built in 1857 as a war memorial for the Wexford men who died in the Crimea War against Russia (1853-1856). Its design is based on the early Irish round tower, which became popular during the 9th Century. These tall towers acted as bell towers for nearby churches and as places of refuge.
Location.
The Irish National Heritage Park is situated in Ferrycarrig, Wexford. A map showing the location of the visitor centre can be seen below.
GPS coordinates for your Sat Nav: 52.34824, -6.51724
Map: