Edenvale is a forested area that is situated 1KM outside of Castlebridge in County Wexford. The area is popular amongst local dog walkers, fitness enthusiasts and nature lovers, as it provides a peaceful walking trail that runs alongside The River Sow. Its proximity to The River Sow adds to the tranquility of the area, as the sound of running water is continuous, but not too loud as to be disruptive. In parts, you will come across trickling streams, small valleys and an impressive waterfall.
Despite what it has to offer, Edenvale is not a well-known area to tourists. In fact – Google Maps doesn't even have a name for it. The entrance, which doesn't do a good job of advertising itself, can be found beside a small car park on the road between Castlebridge and Crossabeg (a map pinpointing its exact location can be found at the bottom of this article).
History & Folklore.
Some background information about the history of the area and some of the local fairy tales that have grown up beside it: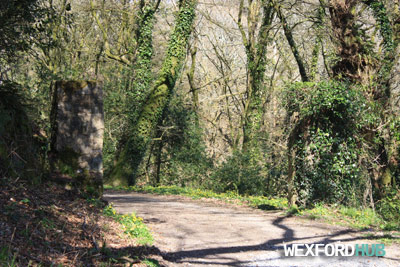 Murder.
In 1931, the area around Edenvale became the scene of a murder after the body of Elizabeth Reck was found in Crory Lane. Later, it would emerge that Ms. Reck had been beaten to death by her employee, Henry Carty, who had "snapped" when she failed to fulfill her promise of raising his salary. Carty, who later handed himself in, told police 'I've done a job on her. She is as dead as a stone.' According to reports from the time, Mr. Carty was "covered from head to foot in blood" when he finally gave himself up to the authorities.
The Blood Stone.
According to local folklore, a blood-coloured rock marks the spot where a Catholic priest fell to his death in the 15th century. The priest in question was escaping through the forest of Edenvale on horseback when he was thrown from his steed. After falling into the small stream below, he struck his head on a rock and died instantly. The blood from his head wound went on to stain the rock for hundreds of years.
Water Pumping Station.
The area is home to a water pumping station, which services many homes throughout County Wexford. Back in 2005, repair works were carried out at the station, which led to a number of problems, as the "harder" alternative supply had a higher lime content.
Ghosts.
Local legend speaks of a ghost sighting in a house window on the steep road outside of Edenvale. "The Fairyhill Ghost" is the name that has been given to this ghostly apparition, which took the form of a woman. If passed-down history is to be believed, the spirit in question was spotted by a man that was local to the area.
FAQ.
How long is the walk?
The trail is about 2.5KM in length. This means that it can be completed in about 20-30 minutes (obviously, this will depend on a number of other factors, such as the purpose of your walk and your level of fitness).
Cycling?
Although it is possible; it's probably not the best place to take a bike ride. The inclines and steps will make it an awkward circuit to traverse.
Can I fish there?
Yes. Bear in mind that there is a 2 Trout-per-day bag limit (under 40cm).
Location.
The entrance to Edenvale can be found on the road between Crossabeg and Castlebridge. As you are driving towards Castlebridge, you should see a small inlet on the left (if you are driving from Castlebridge, this car park will be located on the right). More often than not, there will be one or two cars parked in the area, depending on the weather and the time of day. The entrance is guarded by a metal gate, which is there to prevent unauthorised vehicles from accessing the site. The gate is recognisable because of its warning sign, which urges motorists not to block the entrance to the forest. You will also see a Chevron Board road sign, which warns motorists of the sharp bend.
Directions from Wexford Town.
Drive across Wexford Bridge and head towards Castlebridge. Once you have reached Castlebridge, keep to the left by following the road sign for Crossabeg. Continue along this road and you will eventually cross a small bridge. Continue on for about 400 metres and the car park will be visible on your right.
Looking for more scenic spots? Check out our list of places to visit in County Wexford.
Map.
A Google Maps view: