Over the years, a number of popular Wexford institutions have been forced to close their doors. Some closed because of financial difficulties or stiff competition – others closed because the owners felt that it was time to pull the shutters down and call it a day.
The Star.
The Star is probably the most recent example of a popular Wexford outlet closing its doors for the final time. During the Easter period of 2015, The Star restaurant and bakery ceased trading after 43 years of being in business on Wexford's South Main Street.
Whites For Music.
Whites For Music was situated on South Main Street, at the corner of Keyser's Lane. Over the years, the store sold CDs, tape cassettes, MP3 players, DVDs and concert tickets. Sadly, it announced that it was closing back in June of 2014. During the 30 years that Whites For Music was in business, it was pretty common to see large groups of people lining up outside of the store at night – positioning themselves for the early-morning ticket release of an upcoming concert.
George Bridges toy shop.
George Bridges toy store on Selskar Street was a place of wonder for the children of Wexford. His small Toymaster shop, which stood across from Trimmer's Lane, was the source of many fond memories. In the run-up to Christmas, Mr Bridges displayed a countdown to the long-awaited day. His shop was also well-known for its fantastic Lego displays.
Woolworths.
On Friday, the 4th of April, 1952, Woolworths brought a new retail experience to Wexford's main street. The Woolworths store on South Main Street sold a wide variety of goods, such as clothes, ice cream, Christmas decorations, music records, books, toys and cosmetics. For many Wexford people, it was their first real experience of visiting a superstore. Unfortunately, "Woolies" closed in 1984 when the company decided to pull out of Ireland due to financial concerns. Nowadays, the premises is occupied by Penneys.
Pierce's Foundry.
Pierce's Foundry was situated on Distillery Road, where the Tesco supermarket is today. The company was a major source of employment for Wexford Town and the surrounding area. Many people that grew up during this era often reminisce about  "Pierce's horn", which rang out across the town. For many children in the area, Pierce's lunchtime horn acted as a reminder that they needed to return home for dinner!
BPM.
This one is for our younger readers, whom I'm sure will fondly remember BPM and the wide selection of music that it offered. It was best known for its posters, its listening station and its wide selection of music material.
Unfortunately, BPM was one of the first businesses in Wexford to fall victim to the Internet, as it struggled to compete with online sales and the rise of music piracy. The chain was forced to suspend its business activities back in 2011.
M&J's.
M&J's was a chipper that was situated on North Main Street, where Westgate Design and Lifestyle Sports are today. Many Wexfordians will recall how tasty a bag of chips from M&J's tended to be!
Buckland.
Buckland was a booksellers, newsagents and tobacconists that was located on South Main Street, close to where Hores Stores is. It was run by two ladies called May and Ita. This was the go-to place for Christmas annuals, foreign newspapers, magazines and comic books such as Bunty, Judy and The Beano.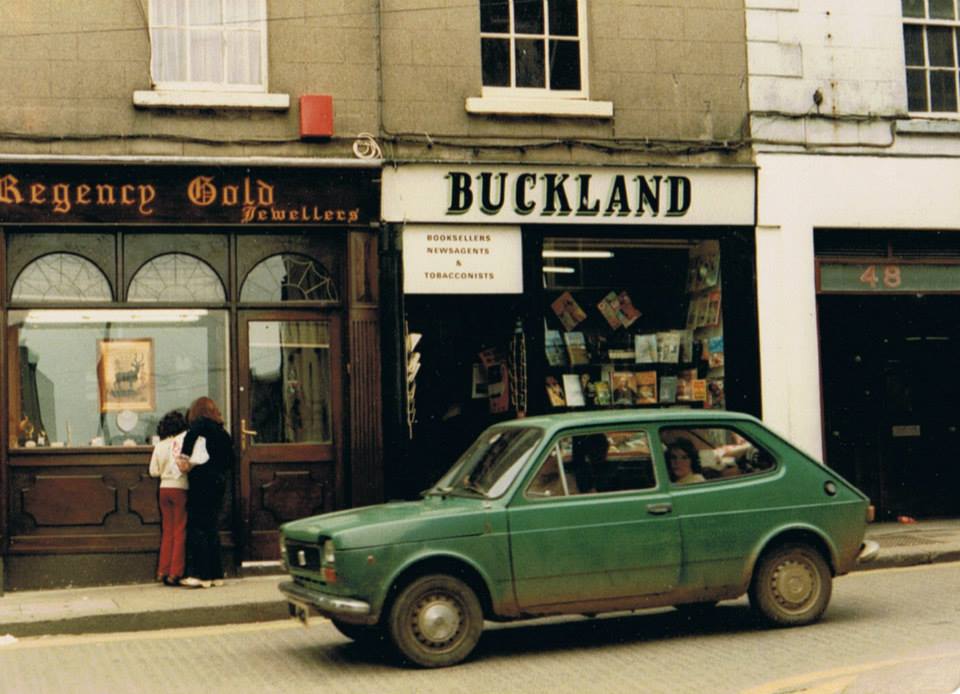 Above: A photograph of Buckland. Taken by Kevin Freeney – [email protected]
Quinnsworth & Crazy Prices.
Before Tesco, the supermarket at the end of Lowney's Mall was called Quinnsworth (in later years, Quinnsworth began to use their brand name "Crazy Prices" instead). In 1997, Tesco purchased the Quinnsworth supermarket chain and rebranded it as "Tesco Ireland". Ten years later, in 2007, Tesco left Lowney's Mall and moved to a new site on Distillery Road. Unfortunately, this had a harmful effect on businesses that had been operating in the mall, as the back entrance on Oyster Lane was closed off and places such as Rendezvous cafe closed due to the decreased footfall.
Pubs.
A number of great pubs have disappeared from the town over the years. These include The Tower Bar on North Main Street, Andy Kinsellas on South Main Street, Reds, Archers, The Bohemian Girl on Selskar Street, The Selskar Lounge, Tim's Tavern and The Commodore.
Sadly, Selskar Bar closed its doors in January of 2007 after 100 years of being in business.
The County Hotel.
The County Hotel on Anne Street was popular for staff dinners, wedding receptions, Thursday night discos and live music from bands such as Wexford group Cry Before Dawn:
The hotel closed its doors in 1989 / 1990.
Coffey's.
Clothing store Coffey's was situated on South Main Street, where Heatons is today. The store was best known for its popular payment plan, which allowed customers to pay for purchased items at a later date, via weekly or monthly installments. Many a child in Wexford was kitted out with a new jacket or pair of shoes in Coffey's!
Cinemas.
Wexford has also had its fair share of cinemas over the years. You had The Palace Cinema in Cinema Lane, The Capitol Cinema on South Main Street, the Abbey Theater on Upper George's Street and the Savoy Cineplex on Redmond Road:
And the rest…
A list of some of the other institutions that Wexford people regularly reminisce about:
Grace's chipper on Bride Street.
The Red Rooster chipper on John's Gate Street.
O'Faolain's on Monck Street.
Sidetracks on Wexford Quay.
The service station across from the entrance to Wexford Bridge.
Record shop T.V.R.S.
The Gem corner shop on Abbey Street.
Crossroads foodstore at the top of Hill Street.
O'Tooles on South Main Street.
Bessie O'Connor's bakery shop.
Whelan's newsagents.
Jenkins department store.
Loves Cafe on North Main Street.
Woolhead on South Main Street.
The Ritz Cafe in the Bullring.
Think we're missing an obvious one? Post a comment below!