Peter Street in Wexford Town is a small street that runs from St. Peter's Square to South Main Street. It also connects with Mary's Lane and St. Patrick's Square at the end of High Street. The street gets its name from the parish of St. Peter's, which was one of the original Norse-Irish parishes that existed in Wexford.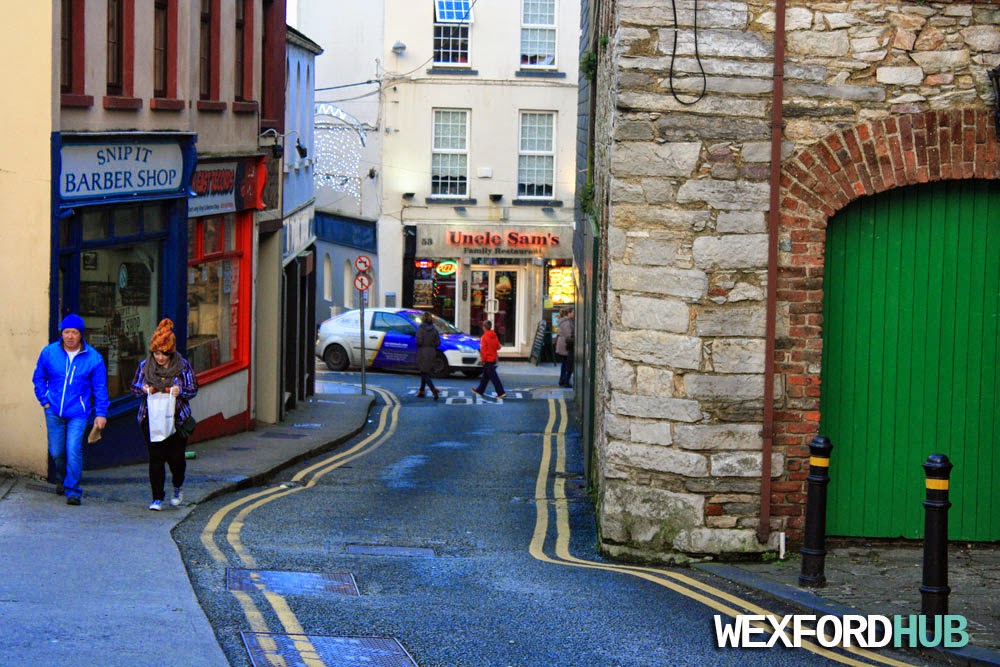 Above: Peter Street, just as it meets with South Main Street and Cinema Lane. In the distance, you can see Uncle Sam's, which is a fast food restaurant. On the left, you can see Snip It Barber Shop and South East Records, which sells vinyl records. This street is also home to a number of other businesses, such as Minstrel Music and Ann Marie's Barber Shop.
The street is sometimes referred to as Gibson Street (sometimes Gibson Lane); a name that it got from William Gibson, who used to own malt stores in the area (these buildings are now owned by Colman Doyle Homestores).
In the past, it has also been called Hay's Lane, simply because it was once the home of Hay's Castle.
The lane that connects Peter Street with St. Patrick's Square and High Street is called Patrick's Lane:
In the past, Patrick's Lane was also called Foundry Lane – after Donnelly's Foundry.
During the 1800s and early 1900s, Peter Street was the centre of the corn trade in Wexford Town. The old malt houses would have been used to store malted corn (the corn was later shipped to breweries in Dublin). Nowadays, the buildings are largely used as warehouses.
Up until the 18th Century, Peter's Gate stood at the top of the street, where it connects with St. Peter's Square. This gate was taken down in the 18th Century to help facilitate the rising growth in traffic.
Map.
A map showing the location of Peter Street / Gibson Street in Wexford Town: