Mallin Street is a small street that connects High Street with John's Gate Street and Wexford's Cornmarket. It runs parallel to North Main Street, which is less than 100 metres away. The street is probably best known for being home to the new Wexford Library building, which was opened in November of 2012.
Pictured above: Mallin Street, looking in the direction of the intersection between Rowe Street and High Street. If you turn left, you will be taken down onto North Main Street. If you turn right, you will end up on Lower John Street. The purple-coloured  building on the right is the Wexford Library. The large towering building in the distance is the Wexford Opera House (recently renamed as the National Opera House).
The street is named after an Irish rebel called Michael Mallin. Mallin was a chief training officer in the Irish Citizen Army. In 1916, he was executed by a firing squad for his role in the 1916 Easter Rising. Before it was renamed in honour of Michael Mallin, the street was known as "Back Street" (the name is visible on OSI maps dating back to the 19th Century).
It is worth noting that High Street to the south was called "Upper Back Street", whereas Abbey Street to the north was once called "Lower Back Street". If you look at a map, you can see that these three streets are connected to one another and that they run in a parallel fashion to Wexford's Main Street (hence the name "Back Street"). Essentially, it was a lengthy segmented street that cut through Wexford's Cornmarket.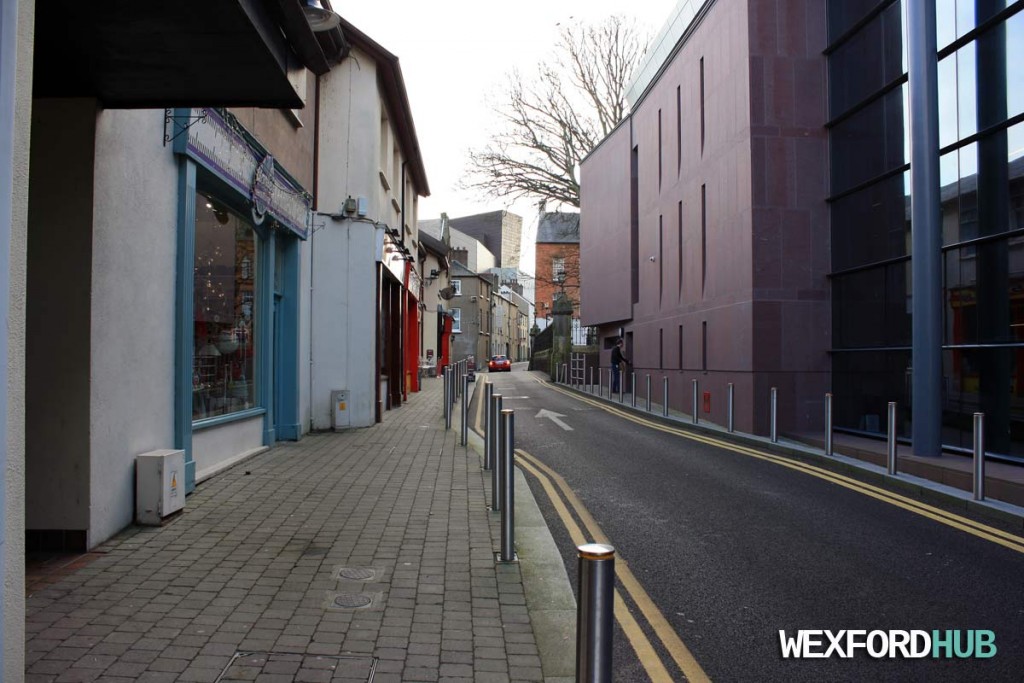 Pictured above: Another shot of Mallin Street. This was taken outside of the entrance to old Cornmarket Centre, which was a small mall that connected Mallin Street with North Main Street.
In the recent past, Mallin Street was the location of a public car park (where the library is now). This car park was situated inside of the remnants of Wexford's town wall, which was constructed by the Normans during the Middle Ages. The rectangular mural tower that once overlooked Mallin Street is now obscured by the new Wexford Library building (the tower can still be seen by those who enter Rowe Street Church car park).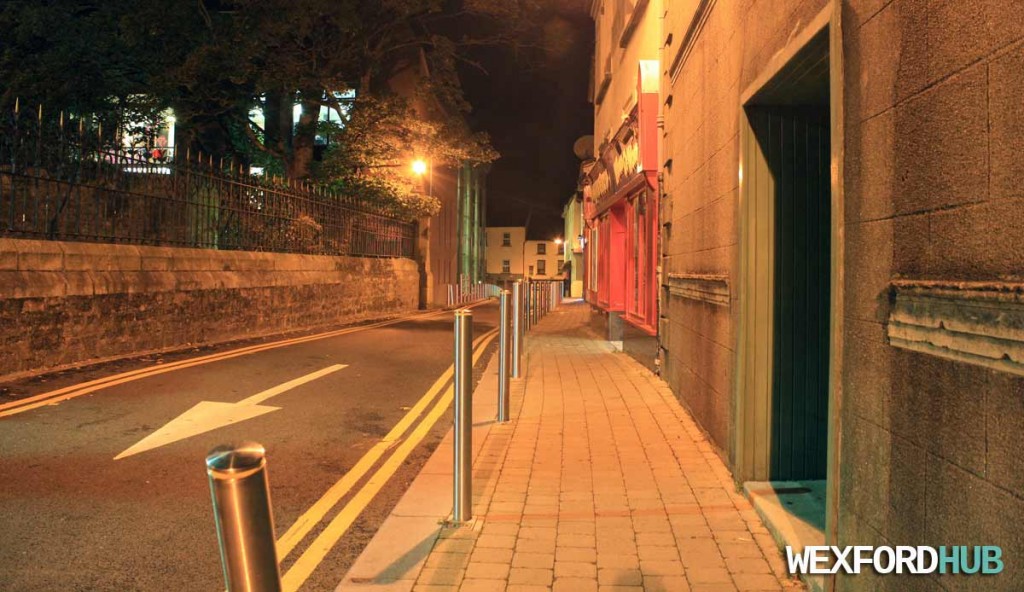 Above: Mallin Street at night. To the left, you can see the gates of Rowe Street Church car park.
The street is home to a number of businesses, such as Sunshine Club, Byrne's World of Wonder (back entrance), Zen Beauty Bar, Psychosis, the Red Kettle cafe,  Zam Zam Kebab House and Annie's Haberdashery.
Map.
A map showing the location of Mallin Street in Wexford Town: