On the 7th of May, 1910, an 18-year-old Wexford woman by the name of Mary Anne Wildes was found with her throat cut at an apartment in The Bullring. The apartment, which was situated above a bar called The Cape of Good Hope, was being rented by a 29-year-old man called Simon Bloom.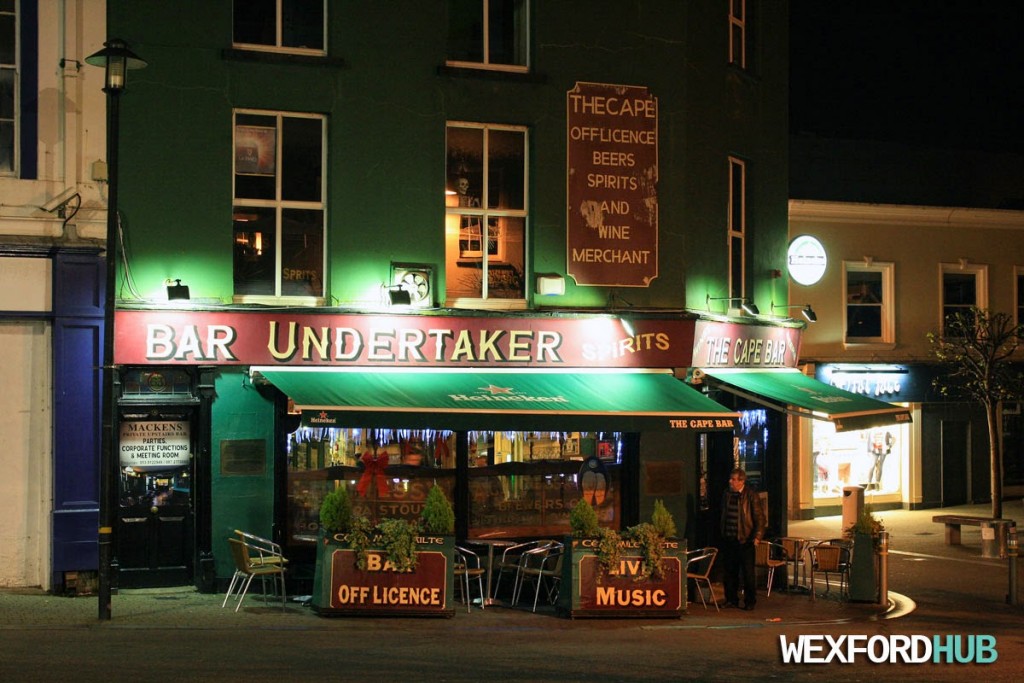 Pictured above: The Undertaker Bar, which was once called The Cape of Good Hope (locally, it is often referred to as Macken's Pub). As you can see, the abridged name "The Cape" is still being used on some of the signage.
Bloom, a Jewish man of Polish origin, was a self-described artist that was known throughout Wexford for selling picture frames and photo enlargements. Mary Anne Wildes, who lived on Roche's Terrace with her widowed mother, had worked for Bloom in the past; watching over his premises while he was away in Dublin.
According to witnesses, Simon Bloom had fallen for Ms Wildes. However, in the days leading up to her murder, she had gotten engaged to another man called Archie Wade. She had also refused Bloom's request that she return and work for him. Ms Wildes' friend, Brigid Mary Power, would later tell the court that the victim felt "pestered" by Bloom.
On Saturday, the 7th of May, 1910, John Doyle and Thomas Lewis of Mary Street heard somebody groaning inside the hallway that led to Bloom's residence. After they opened the letterbox and asked who was there, a voice replied with "Mary Anne". Shortly afterwards, Bloom arrived back at his residence. While talking to the two men, Bloom attempted to direct the blame away from himself by claiming that he had left a man and a woman inside the apartment.
Upon opening the door, however, Bloom pushed past the injured Mary Anne Wildes and dashed towards the stairs, with the aim of sealing himself inside his apartment.
At this stage, the extent of Mary Anne's injuries became abundantly clear to the two men, as blood gushed from a wound in her neck, staining her dress and the white rose that she had been wearing. One of the men, Thomas Lewis, picked Mary Anne up in his arms and started to call out for a doctor.
Ms Wildes was placed into a handcart and pushed to the infirmary on Hill Street. As she was being pushed along, bystanders watched on in shock as others attempted to stop the blood by placing handkerchiefs over the wound on her neck.
When Mary Anne Wildes reached the infirmary on Hill Street, she was still conscious, which meant that she was able to name Simon Bloom as her attacker. She also stated that Bloom had asked her to marry him. Although she never told anyone what her answer was, we can only presume that she had said no and that Bloom had flown into a jealous rage.
Once the news of the attack spread throughout the town, an angry mob began to descend on The Bullring. There, they demanded that the door of Bloom's apartment be broken in. Police constables on the scene managed to contain the crowd until a key for the door was procured from the owner of the building.
When officers entered Bloom's apartment, they found him sitting in a chair with a wound to his throat and a letter in his hand – an unsuccessful attempt at suicide. A blood-stained razor was taken from the apartment as evidence and Bloom was transported to the infirmary.
The following day, at the infirmary on Hill Street, the deposition of Mary Anne Wildes was taken. According to her statement, Bloom had caused the 3-inch-long wound to her neck after he had attempted to choke her. Simon Bloom, who was present at the deposition, refused to cross-examine Ms Wildes.
Later that day, at 10PM, Mary Anne Wildes died as a result of her injuries.
Simon Bloom was later found guilty of her murder. After serving a number of years for the crime, it is believed that he emigrated to America.