The official name of Wexford's single-platform train station is O'Hanrahan Railway Station. The station is situated in Redmond Square, close to the main shopping centre of Wexford Town. It is situated between Enniscorthy and Rosslare Strand.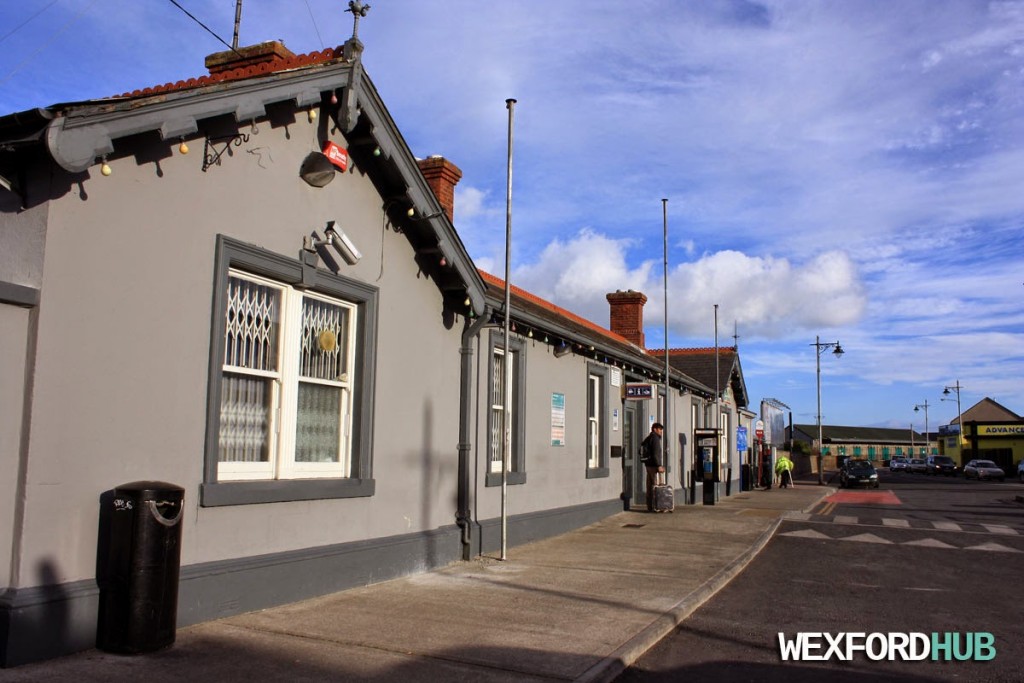 Photographed above: O'Hanrahan Railway Station. Taken on a Saturday in February of 2015.
The building also serves as a bus station; with companies such as Bus Éireann and Wexford Bus providing a number of bus routes.
History.
A railway line between Dublin and Wexford was first proposed back in 1844 by Isambard Kingdom Brunel; a famous English engineer that was best known for having built the Great Western Railway. By 1864, the railway link from Dublin had been extended as far south as Wicklow and Enniscorthy. It wasn't until 1872 that the line finally reached Wexford Town.
The train station in Wexford was opened on Monday, the 17th of August, 1874.
On the 8th of April, 1922, Irish revolutionary leader Michael Collins arrived at the station during his visit Wexford Town; a few months before the start of the Irish Civil War.
In April of 1966, it was officially renamed as O'Hanrahan in honour of Irish rebel Michael O'Hanrahan, who was executed for his role in the 1916 Easter Rising. O'Hanrahan was born in New Ross in County Wexford. During the rising in 1916, he fought as the second in command at Jacob's Biscuit Factory under Irish Volunteers founder and Gaelic League member, Thomas MacDonagh. On the 4th of May, 1916, he was executed by firing squad at Kilmainham Jail in Dublin.
It is important to note that up until 1977, Wexford Town had two railway stations, with the other being at the southern end of the rail line, close to where Trinity Street is. This station was called "Wexford South".
Video.
Below, you can watch old video footage of the station. The footage was captured in January of 1902:
Map & Address.
The station is situated in Redmond Square, across from Dunnes Stores. The map below pinpoints its exact location: