Wexford's Summerhill runs from Clonard Road and Wexford's GAA Park to the roundabout between Talbot Green, Grogan's Road and Waterloo Road. The name "Summerhill" is extremely common throughout Ireland, as it was typically used to describe steep inclines and passageways that were only passable during finer weather. In the past, these hills would have become extremely difficult to use during the winter months, as the wet weather would have turned the dirt roads into a slippery slope of muddy slush.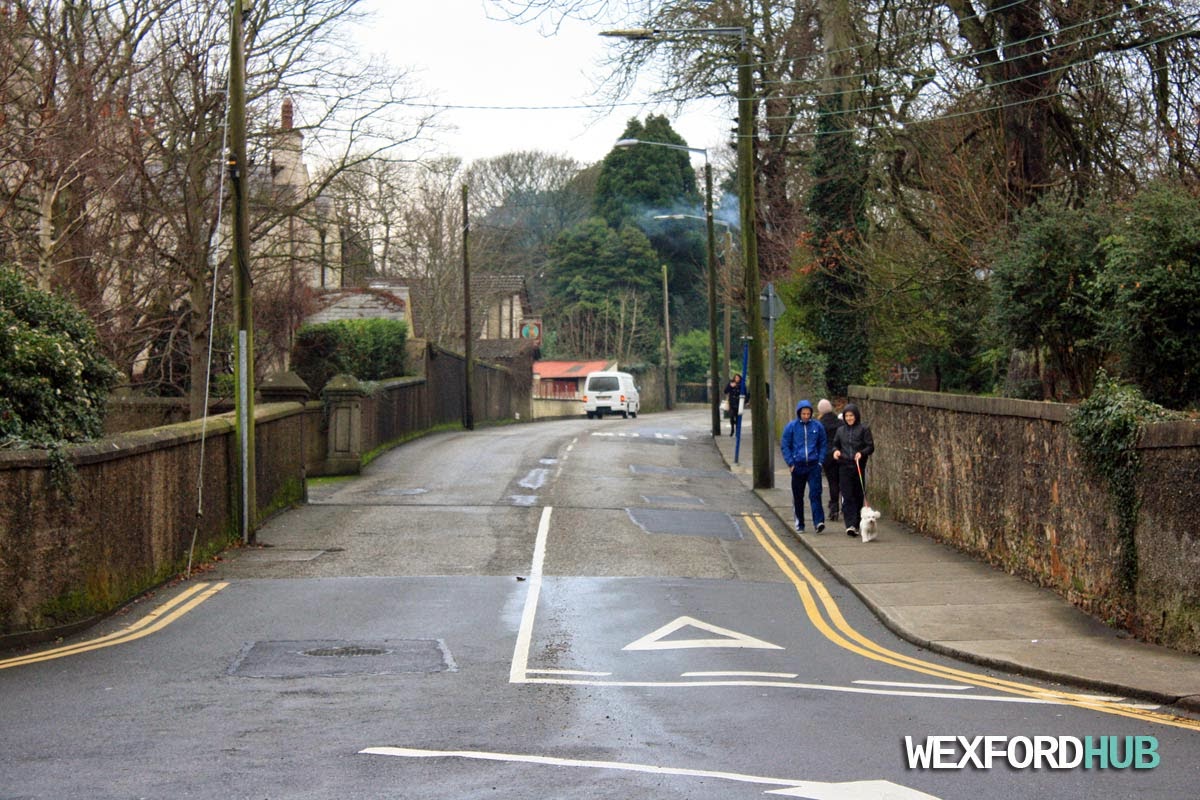 Above: A photograph of the bottom of Summerhill Road. This was taken in January of 2015. On Ordnance Survey maps from the 1800s, you can see that this particular location (the roundabout at the end of Summerhill) was called "Summerhill Cross Roads".
St. Peter's College.
Summerhill is probably best known for being home to St. Peter's College, which is a Catholic secondary school for males. It was founded in 1811 by Most Reverend Patrick Ryan, who was the Bishop of Ferns at the time. Originally, the school started off as a Catholic Seminary on Michael Street; before moving to Summerhill in 1819. Up until 1997, St. Peter's College operated a boarding school. In 1998, the Catholic Seminary was closed, with the remaining 10 clergy students transferring to other seminaries in the region. Currently, the school has a population of 700 students and 42 teaching staff. The grounds of the school are currently being used by the Wexford Campus of IT Carlow.
HSE Mental Health Centre.
At the bottom of Summerhill, you will find the HSE Mental Health Centre, which provides a community mental health service, as well as support to those with intellectual disabilities and substance addictions.
The Mercy Nuns.
In 1842, the Mercy nuns (Congregation of the Sisters of Mercy) took over the Redmond Talbot Orphanage, which was situated close to where Summerhill Heights is today. There, they operated a primary school and orphanage (often, this orphanage is officially referred to as the Sisters of Mercy Training School). In the past, the orphanage has received national media attention because of its similarities with the notorious Magdalene laundries. Those who attended the Sisters of Mercy Training School in Summerhill have spoken out about its past; saying that it was 'more akin to a slave labour institution than a training centre'; and that students were forced to work 12 hours a day, between 7am and 7pm.
The Bishop's House.
Summerhill is also the location of "The Bishop's House", which is a 20 acre property that was originally called Summerhill House (visible in OSI maps from the 1800s). The house was originally built for the Devereux family during the later parts of the 18th Century. Nowadays, it acts as the administrative centre for the Diocese of Ferns.
Other.
There are two residential estates that are situated on Summerhill Road. These are College Green and Pine Ridge. The road is also home to the Summerhill Veterinary Hospital.
Map.
A map showing the location of Summerhill in Wexford Town: