A list of rent-related statistics for County Wexford. All of the statistics on this page were gathered from the Central Statistics Office and the Private Residential Tenancies Board.
Average Rent Prices – 2014.
Average monthly rent prices for the year 2014; broken down by location and ordered from highest to lowest:
Rosslare: €564.39
Gorey: €562.88
Wexford Town: €544.39
Ferns: €531.77
Bunclody: €528.87
Enniscorthy: €518.47
New Ross: €509.03
As you can see, properties in New Ross had the cheapest average rent in 2014; being almost €55 cheaper per month than Rosslare.
Rent Changes.
A graph that shows the average rent prices in County Wexford from 2008 to 2014: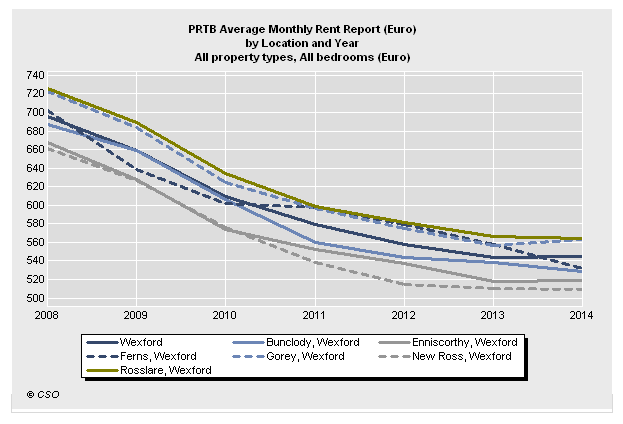 As you can see, the average monthly rent cost continued to tumble from 2008 onward, as Ireland went into recession and unemployment levels rose significantly. In Wexford Town, rent prices fell by roughly €152 from 2008 to 2014.
It is interesting to note that average rent prices in Ferns continued to fall throughout 2013. This is in contrast to other towns in County Wexford, all of which seemed to level-off.
A quarterly graph from 2008 (Q4) to 2015 (Q1):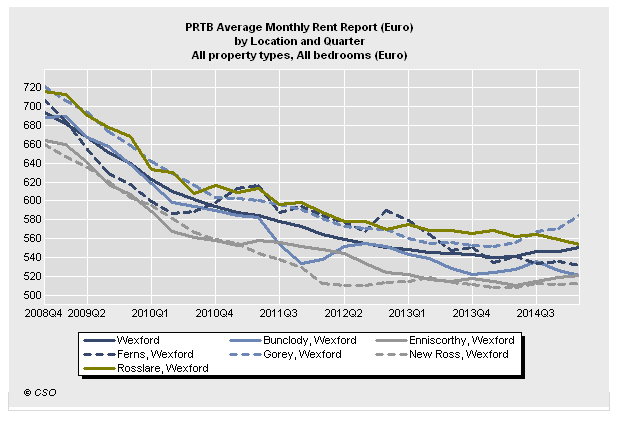 Between 2009 and 2011, rents throughout the county plummeted. New Ross and Enniscorthy remained the cheapest places to rent in County Wexford, while Rosslare and Gorey remained the dearest places to rent. From the first quarter of 2013, rents seem to have leveled out; remaining in and around the same price. Rents in Gorey seem to have increased significantly in the first quarter of 2015, making it the dearest place to rent in the entire county. Wexford Town and Enniscorthy also rose in the first quarter of 2015.
Two-bedroom Properties.
The following statistics are for 2014. In 2014, the average cost of renting a two-bedroom property was:
Wexford Town: €497 per month.
Enniscorthy: €465.86 per month.
Gorey: €513.68 per month.
New Ross: €471.84 per month.
Rosslare: €487.76 per month.
Three-bedroom Properties.
In 2014, the average monthly cost of renting a three-bedroom property was:
Wexford Town: €573.73
Enniscorthy: €548.52
Bunclody: €553.66
Gorey: €572.92
New Ross: €549.23
Rosslare: €569.91
Two-bedroom vs Three-bedroom.
So, what is the difference between renting a two-bedroom property and a three-bedroom property?
Well, across the entire county, the average cost of a three-bedroom property is €561. The average cost of a two-bedroom property is €487. That's a difference of €74 per month, which is roughly €17 per week.
i.e. If you're looking to rent a larger house or apartment, then you'll probably be paying an extra €17 per week.