For the first time, Hook Lighthouse will celebrate Imbolc, a Gaelic traditional festival marking the beginning of spring, it is also the feast of St. Bridget, in ancient Irish mythology, Bridget was a fire goddess, she is also the patron saint of boatmen, sailors, and mariners.
Imbolc is one of the lesser-known festivals of the ancient Celts, but it was one of the four most important festivals in the Celtic calendar and it is set to be revived and celebrated at the 800-year-old lighthouse on February 2nd, 3rd and 4th 2018.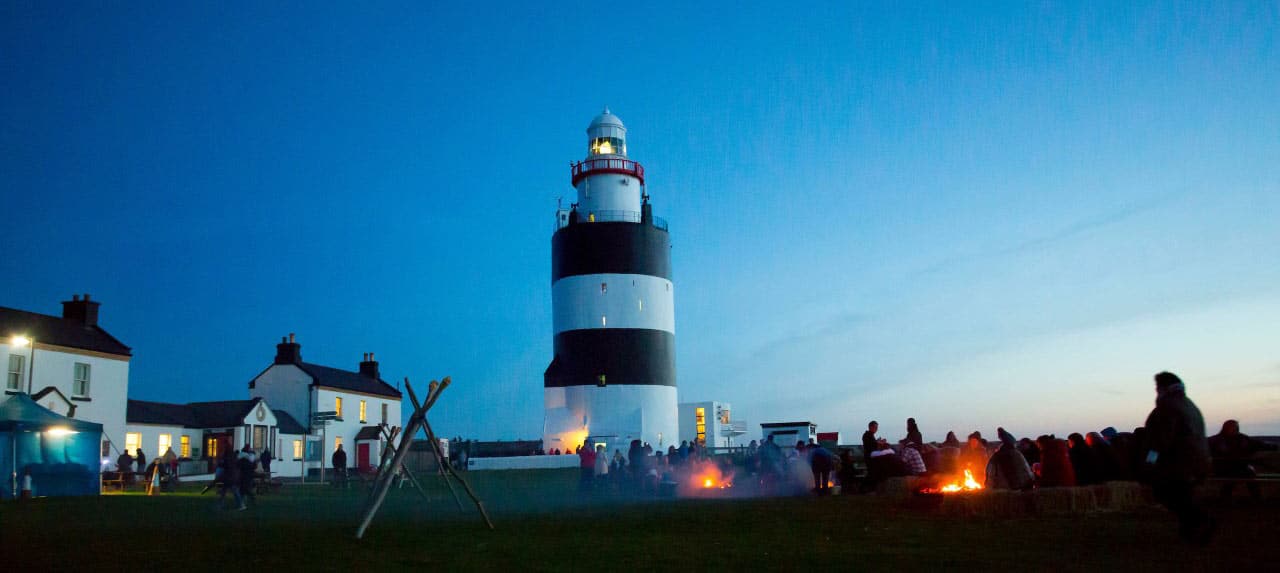 On Friday evening, February 2nd multi-platinum selling singer and songwriter Brian Kennedy will host a unique concert in the ancient lighthouse tower. The chart-topping singer is known for his ballads and toured with the legendary Van Morrisson and has shared the global stage with some of the all-time greats – Joni Mitchell, Bob Dylan, Ray Charles amongst much more and has toured the world performing his chart-topping songs.
Getting the weekend's festivities off to a start on Saturday, February 3rd is a sunrise tour of the ancient lighthouse at 7.00 am. Guests will be treated to the dawning over the spectacular South East coast while enjoying a bespoke lighthouse tour and savouring bucks fizz, prosecco, fresh tea, and coffee along with a selection of breakfast canapés made from the finest local produce, including Ballyhack smokehouse smoked salmon on homemade brown bread. This adult only tour must be booked in advance by calling 051 397055.
In the afternoon storyteller Baya Salmon-Hawk who will offer free storytelling sessions for children telling ancient Celtic tales from 2 pm to 4 pm, she will also be assisted by Captain Hook.
On Saturday evening at 5 pm, 'A Fire in the Head' spoken word event will commence celebrating the turning of the Celtic year; poetry, stories, and song will be shared by candlelight, all under the theme of fire and water. The story of St. Bridget of Kildare will also be shared. A spoken word event will take place with an open invitation to storytellers, poets, rappers and all wordsmiths to join the occasion the 'word' competition around the theme of Imbolc, this spoken word event will be judged by none other than best selling author Cat Hogan and the winner will be awarded tickets to the Kieran Goss concert which is due to take place at the lighthouse in the summer.
On Sunday a Celtic Goddess Ceremony on the theme of 'quickening' is set to take place. The word Imbolc means literally "in the belly" in the old Irish Neolithic language, and is symbolic of the beginning of the season and signals the 'quickening of the year'. At 12 noon on Sunday, Baya Salmon-Hawk will perform a Celtic Goddess Ceremony on the theme of 'quickening within you' commencing the ceremony at St Dubhan's Well located at Dubhan's church ruins and walking to lighthouse into garden cobbled maze, in the centre of maze participants can tie Spring wishes on the Imbolc tree sculpture surrounded by the fire-baskets lighting in maze garden.
On Sunday afternoon from 12 to 4 pm children's entertainment fun and games will be on offer with Captain Hook and Cafe specials will include Pancakes filled with seasonal berries and sweet sharing plates. All weekend Art with Rose including specials Bridget's cross Celtic goddess art will also be on offer.
All Imbolc Festival events at Hook Lighthouse are available to enjoy free of charge apart from the Brian Kennedy Concert (tickets €30pp), Sunrise Tour and Art Workshops with Rose. Sunrise tour tickets are €45pp and Art with Rose is from €5. For further details and ticket booking see www.hookheritage.ie or call 051 397 055.