Controversy erupted on social media websites last night after it emerged that a number of local businesses in Wexford Town had made the decision to close their doors. The temporary closure of businesses in the town has been linked to the the burial of five victims of the Carrickmines halting site fire, which is due to take place in Crosstown cemetery today.
A photograph of Bride Street public car park with barriers and a "closed" sign at its entrance sparked further controversy, as many people made the assumption that it had been closed in order to prevent members from the travelling community from parking there. However, David Minogue, who is the Communications Officer for the Wexford County Council, has since clarified the reason behind the closure:
It is difficult to predict the scale of carpark requirements for today's funerals of the victims of the Carrickmines Fire Tragedy, so in order to ensure sufficient parking spaces within a reasonable distance of the church, the decision was taken to designate Bride Street carpark as an overflow carpark for the funeral. In order to ensure its availability today, it was necessary to close the carpark last night, as it otherwise would have been occupied by the public as is the normal daily routine.
Irish actor John Connors, who plays the character Patrick Ward on RTE's crime drama Love/Hate, also weighed in on the closure of certain businesses in Wexford:
So Wexford town shut down all its pubs and it plans to do the same thing tomorrow because of the funeral of the Carrickmines victims. Wexford has a long history for its ill treatment of travellers, so I guess that hasn't changed. How much more sh*t does this family have to go through?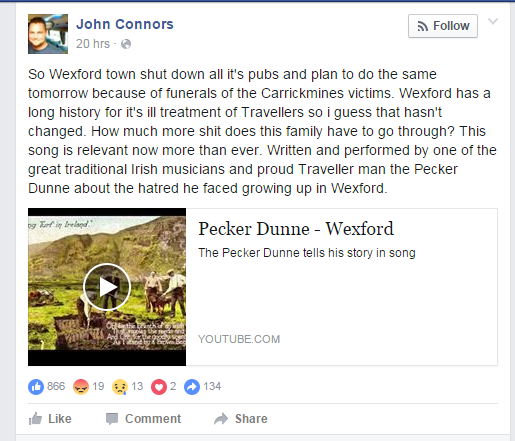 Above: A screenshot of the post, which Connors posted on his Facebook page.
As debate about the closures continued, there were also rumors that the An Garda Síochána had advised bars and hotels to shut down for the day. However, this rumour remains unsubstantiated. This morning, a spokesperson for Clayton Whites Hotel stated that the hotel had received no such advise and that 'it's business as usual today.' Local pubs such as Maggie Mays are also expected to remain open.